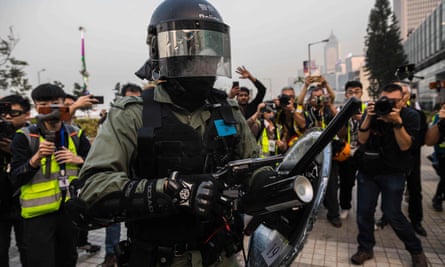 1st October is the anniversary of the founding of the "People's Republic" of China. There will be a lot of "first camp" right-wing agitation on the one hand, and "second camp" Stalinist/Maoist apologism on the other.
So the Uyghur Solidarity Campaign and Labour Movement Solidarity with Hong Kong have jointly launched an open letter expressing international workers' solidarity and a broad statement of third camp politics, aiming to put a flag in the ground and hopefully get some action going on 1 October.
Please sign and share widely ASAP – thank you!
Sign the open letter: "Against Beijing and Washington, for International Workers' Solidarity: Internationalists and the 1 October Day of Action"Chinese version: 中文版 https://uyghursolidarityuk.org/ch-version-open-letter-against-beijing-washington/
This open letter has been initiated by the Uyghur Solidarity Campaign UK and Labour Movement Solidarity with Hong Kong (UK). We invite you to add your support:
1 October 2020 is the 71st anniversary of the founding of the People's Republic of China. It will be marked by protests around the world in solidarity with the Uyghur, Mongolian and Tibetan people, the Hong Kong democracy movement, and democracy activists and dissidents within China.

As socialists, progressives, anti-capitalists and trade unionists, we stand in solidarity with all those struggling under the repressive Chinese state and ruling class.

In Tibet and the Uyghur region, China maintains colonial occupations marked by extreme brutality and racist persecution, including mass internment, forced labour and involuntary contraception. The Chinese empire is attempting to consolidate control by forcibly suppressing and assimilating the cultures, languages and national identities of these peoples.

In Hong Kong, the new National Security Law and violent police crackdowns mark a new escalation of state repression against a movement demanding universal suffrage and political freedom.

Across the country, the so-called "Communist" party-state presides over an economy of rampant exploitation, with wealth inequality approaching that of the USA and still growing. Dissent is suppressed and independent trade unions are banned, while capitalists and state bureaucrats profit. This is naked class rule, not a path to socialism.

Further afield, through its Belt and Road Initiative and debt-trap diplomacy, Beijing seeks to compete as a superpower by tying a swathe of the world into a China-led economic sphere. Echoing the tactics of western imperialism, China is expanding its long-range offensive weapon systems, militarising the South China Sea and seeking to seize resource-abundant waters claimed by Vietnam, Malaysia, Brunei and the Philippines.

At the same time, in rival powers such as the US, UK and India, cold war hawks pose as allies to Beijing's victims. This is cynical opportunism by hypocrites, imperialists and nationalists seeking advantage over a rival. The escalation of economic and military tensions is no solution, and threatens to endanger and impoverish the oppressed and working classes on both sides of the divide.

The ultimate liberation of the working classes and oppressed peoples around the world will not be handed to us by one or other gang of imperialists and exploiters: we must win it ourselves.

Therefore we look with hope and solidarity to the resistance from below that already exists within China and its occupied territories: the Hong Kong democracy movement and the role of independent trade unions within it; the seething class struggle of unofficial strikes and civil disobedience independent of the state-controlled unions inside China; feminist & LGBTQ activism, environmental protests, and artists, writers and cultural activists; the protests in Southern Mongolia against moves to squeeze their language out of education; and more.

As we battle exploitation, oppression and imperialism in our own countries, we must build links with, amplify and support those struggles. Consistently opposing the ruling classes on both sides of this growing conflict, we must build solidarity across borders based on fundamental principles: class struggle, full economic and political democracy, universal human rights, liberation from all oppression, and the right of self-determination for all nations and peoples.

Therefore, on 1 October we will organise solidarity actions under the banner "Against Beijing and Washington, for International Workers' Solidarity". We invite all individuals and groups who agree, to sign this statement and organise with us.
—————————————-
If you have any problems filling in form please email uksolidaritywithhk@gmail.com
—————————————–
*** Organisations:
Uyghur Solidarity Campaign UK
Labour Movement Solidarity with Hong Kong (UK)
Lausan 流傘 Collective
China Labour Solidarity
Alliance for Workers' Liberty
Anti*Capitalist Resistance
Hackney and Islington Unite Community
Another Europe Is Possible
Fightback (Aotearoa/New Zealand, Australia)
Uyghur Association of Victoria (Australia)
Chinese Solidarity Campaign
Auckland Peace Action (Aotearoa/New Zealand)
Uyghur Solidarity New Zealand
Auckland Feminist Action (Aotearoa/New Zealand)
Australian Uyghur Association, Australia
Red Flag (UK)
*** Individuals (in personal capacity):
Nadia Whittome MP (Labour, UK)
Clive Lewis MP (Labour, UK)
Hisyar Ozsoy MP (Peoples' Democratic Party, Turkey)
Feleknas Uca MP (Peoples' Democratic Party, Turkey)
Gülistan Kiliç Koçyiğit MP (Peoples' Democratic Party, Turkey)
Paul Sweeney, former Shadow Scottish Minister (Labour, UK)
Peter Tatchell, human rights campaigner
Paul Mason, journalist
Julie Ward, Another Europe Is Possible National Committee, Open Labour International Officer, UNITE member
Ana Oppenheim, Momentum National Coordinating Group member
Abbie Clark, Momentum National Coordinating Group member
Michael Chessum, National organiser, Another Europe is Possible
Ben Towse, Organiser, Uyghur Solidarity Campaign UK; UNISON
Lukasz Wenc, RAZEM (Polish political party London branch)
David Ball, Organiser, Uyghur Solidarity Campaign UK; NEU; Unison; Finchley and Golders Green Labour Party
Pete Radcliff, Another Europe Is Possible National Committee
Tim Pringle, UCU rep
Kyle Bellamy, UNISON Steward and Scottish Labour member
Prof Gilbert Achcar
Ruth Cashman, Joint Branch Secretary Lambeth UNISON
Simon Hannah, Joint Branch Secretary Lambeth UNISON
Harriet Evans, Vice chair Highgate branch Holborn & St Pancras CLP
Anissa Bekkouche
Angélina Munsch, Feminist Collages London
Julie Le Déaut, Place Publique Londres
Fatemah Jamal Al-Lail
Rhian Keyse, UCU Activist
Daniel Rawnsley, NEU
Lauren Corre
Daniel Randall, Assistant Chair, RMT Bakerloo branch
Hong Luo, TSSA Delegate; Labour Party Member
Laura Bubaton
Céline Bourseaux
Sammi Ferhaoui, Enfield North CLP, Momentum, Unite
PWO, British-Chinese activist, UK
Luke Cooper
Estella Schmid, Peace in Kurdistan
Ibrahim Pat-Sowe, Labour Party
Dawn Judd
Alice Bennett, Chair, Garston and Halewood CLP
Rona Jones
David Chambers, Unite
Jason Gold, Founder and Chair Labour International and Co-founder of Montenegro International.
Hilary Wainwright, Co-editor Red Pepper, Associate Transnational institute .
Nazmi Gür
Val Colvin, Women's Officer Garston & Halewood CLP
Sade Sawyers
Steve Walker
Owain Gardner, Weardale BLP Secretary, North West Durham CLP EC Member
Vesko Karadzic
Angela Godfrey-Goldstein, Co-Director, Jahalin (Bedouin) Solidarity, Palestine
Dorothy Gregory, Labour Party
Alena Ivanova
Dibyesh Anand, Professor of International Relations
Matthew Turner, Labour Campaign for Human Rights
George Gray, Labour party, Unite
Josh Lovell, Cambridge UCU member, Herts County Councillor
Christie Neary, NEU
Andy Warren, PCS
Wajeeha Saman
Steve Chapman, Sheffield Heeley CLP / Unite the Union
Andrew Coates, Labour Party, Ipswich CLP.
Omar Raii
Mudassir Nadeem
Liz Yeates
Tyrone Falls, Bristol NEU, International Solidarity Officer
Darren Byler, Postdoctoral Researcher
A Ali
Vijay Jackson, Political Education Officer, Edinburgh Central CLP
Kas Witana, CLP Political Education Officer Penistone & Stocksbridge
Khadisha Sazanbaev
Dan Davison, Cambridge UCU, Mole Valley CLP
Zoe Kennedy
Vicki Morris, University of Nottingham Unison branch chair
Paul Barbour, CWU
Ani White, NTEU (Australia)
Nicola Holden
Daniel Fischer
Javier Sethness
Eli Friedman
Darwin Tsen, Assistant Prof. Modern Languages, Carthage College
Ribhya N
Jason Schulman, Democratic Socialists of America
Gregor Benton
Janine Booth
Paul Crofts, Independent Socialists, Wellingborough
Robert Hall, Equity member
Kelly Rogers, NEU workplace rep
Sigrid Schmalzer, Vice President, Massachusetts Society of Professors
Wilfred Chan, Contributing Writer, The Nation
Theresa Weir
Iain Chambers
Christopher Bright
Tony Brockman, Past President, National Union of Teachers
Courtney Remacle
Paul Swift
Abel Harvie-Clark, Unison
Paul Colley, member of Unite & PCU (Psychotherapy & Counselling Union)
Joe Buckley
Charlie Thame, Thammasat University
Leandro Vergara-Camus
Hadi Enayat
Michael Weller, National Pensioners Convention
Jens Lerche
Matthew Chan
Vanja Hamzić, UCU / SOAS University of London
Stephen Poland, Central CT DSA
Steven Kelly
Jessica Yeung, SOAS University of London
Larry Esser
Tim Peugniez
Ruth Johnston
Ole Wiedenmann, UCU
Hilary Kemp, OU Student
Richard Finnigan, Unite, Green Party
Jaswinder Singh Chaggar, Labour
Robert Forbes
Sandy Paul, Poplar and Limehouse CLP, EC Member, Unite
Hann Sutcliffe, UK Labour
Amy Helen
Tavin Kemp
Tiffany H
Thomas Gilbert, UVW, UK Labour
John Sutcliffe
Melissa Timms
Rachel Harris, SOAS University of London
Jack Wong
Hannah Sawtell, Artist Union
Julie Dye
Dilnaz Kerim, member of Uyghur Community UK
Andrew Kramer, SURJ
M Bethoux
Leila Isa
Pasha Hong
Sarah K, EBDSA, Sunrise Bay Area
Valerie Marriott, PEO Loughborough CLP
Chris Bird
Hsiao-Hung Pai, Journalist, NUJ
Fred Choo
Daniel York Loh, writer/actor
Phi Johnson, Labour
Kevin Cheung, Lecturer
Hong Luo, TSSA Delegate Labour Party
David Anderson
Rowena Foote
Zing Kwen Wai
Edna Mullen
Trevor Langford, member of the Liberal Democratic Party
Hans Lee
Raymond Chiu
Timothy Mullen
Clare Bickle
Joe Baxter
Philippe Jungo
Gerald Saunders
Zaneb Ali
Brian Shaw
James Taylor, Unite
Edna Mullen
Sacha Marten, VC Membership and LGBT+ Officer, Tonbridge & Malling CLP, Momentum and Young Labour Internationalists
Pasha Hong
Jim Denham, Unite delegate to Selly Oak CLP
Faaiqa Shahab-din
Travis Palmer
Chris Tregenza, Open Nottingham
Shuguftah Quddoos, Nottingham Labour councillor

https://uyghursolidarityuk.org/2020/09/21/open-letter-against-beijing-washington-for-international-workers-solidarity/
https://twitter.com/CampaignUyghur/status/1308099139784278019
https://www.facebook.com/UyghurSolidarity/posts/337104440963340
https://www.instagram.com/p/CFaFqiCpjrZ/