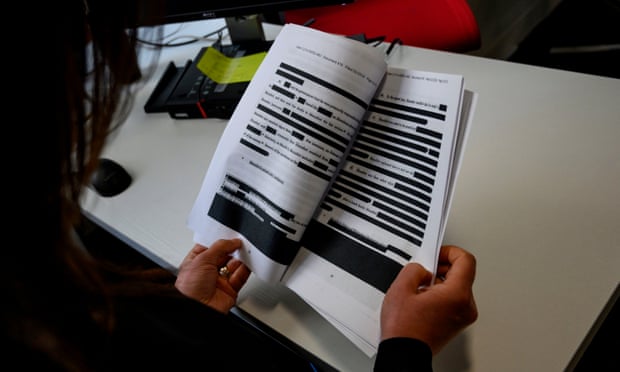 The redacted version of the Mueller report. Photograph: Eric Baradat/AFP/Getty Images
Attorney General William Barr has said the redactions will be divided into four categories: grand jury material; classified material from US intelligence agencies or allies; details that could compromise ongoing investigations; and, in Barr's words: "information that would unduly infringe on the personal privacy and reputational interests of peripheral third parties".
"That last category could prominently include Trump," writes the Guardian's Tom McCarthy.
Barr is seen as a Trump loyalist with a low opinion of Mueller's investigation. Barr will probably be challenged to explain why certain material was deemed unfit for public view. Democrats in the House have already said they will subpoena the full report.
Special counsel Robert Mueller delivered his report on Russian interference in the 2016 election and possible obstruction of justice by Trump, on 22 March. Since then, the Trump-appointed Attorney General Barr has been spinning it in favour of Trump, prior to its release to Congress and the public.
The report is the result of Mueller's 22 month investigation, during which the special counsel issued nearly 500 search warrants and more than 2,800 subpoenas indictments, and interviewed about 500 witnesses. Mueller's probe resulted in 37 indictments or guilty pleas, including some from Donald Trump's inner circle.
Two days after Mueller delivered the report Barr sent a four-page letter to Congress supposedly summarising its findings. He stated that on the question of Russian interference, Mueller detailed two ways in which Russia attempted to influence the election: firstly disinformation and social media campaigns by the Internet Research Agency to cause social discord, and secondly computer hacking and strategic release of emails from the Hillary Clinton presidential campaign and Democratic Party organizations.
However, Barr quoted the report as saying: "[T]he investigation did not establish that members of the Trump Campaign conspired or coordinated with the Russian government in its election interference activities" (which falls short of the "exoneration" that Trump claims).  On the question of obstruction of justice, Barr said no conclusion was reached by the special counsel, noting that Mueller wrote "while this report does not conclude that the President committed a crime, it also does not exonerate him".
Barr and his deputy Rod J. Rosenstein concluded that obstruction could not be proven to the very high standard of proof ("beyond reasonable doubt") required for a criminal case. They have also discussed the final report with White House attorneys prior to its release to Congress and the public. At every stage, Barr has spun in favour of Trump, even to the point of misrepresenting what Mueller concluded about obstruction of justice: that there is, indeed, a case to answer.
Mueller simply set out 'facts' on both sides of the question of whether Trump had obstructed justice, The potential examples of obstruction cited in the report of justice include:
Trump's efforts to fire Mueller.
Trump's firing of the former FBI director James Comey.
Trump's efforts to hijack oversight of the Mueller investigation.
Trump's order to the White House counsel, Donald McGahn, to deny that Trump had tried to fire Mueller.
Trump's conduct with regard to associates who have pleaded guilty to crimes, including Michael Flynn, Paul Manafort and Michael Cohen.
Trump's "repeated efforts to get McGahn to create a record denying that the President had directed him to remove the special counsel" are held up for special scrutiny. Trump told McGahn twice to order the deputy attorney general, Rod Rosenstein, to fire Mueller, McGahn told Mueller.
"McGahn recalled the president telling him 'Mueller has to go" and 'Call me back when you do it'," the report says.
"If we had confidence after a thorough investigation of the facts that the President clearly did not commit obstruction of justice, we would so state," the report continues. "However, we are unable to reach that judgment.
"The President's efforts to influence the investigation were mostly unsuccessful, but that is largely because the persons who surrounded the President declined to carry out orders or accede to his requests," the report says.
While the Mueller report declines to recommend a prosecution by the justice department, Mueller notes that Congress might do so.
"The conclusion that Congress may apply the obstruction laws to the President's corrupt exercise of the powers of office accords with our constitutional system of checks and balances and the principle that no person is above the law," the report reads.
In his letter to Congress,  even the Trump apologist Barr could not avoid quoting this line from the report: "While this report does not conclude that the President committed a crime, it also does not exonerate him."
What did Mueller, a lifelong prosecutor, see or discover that led him to believe that the president might have committed a crime?
The report paints a picture of a campaign whose members – and this is to be charitable – were manipulated by a sophisticated Russian intelligence operation.
Mueller did not 'establish' there had been collusion between Team Trump and Russia But just four incomplete sentences – fewer than 90 words – of Mueller's made it into Barr's letter to Congress. There are some 400 pages of the report altogether. When a FISA warrant was issued for surveillance of a Trump campaign advisor, Carter Page, the court was reportedly told: 'The FBI believes that the Russian Government's efforts are being coordinated with Candidate #1's campaign…' Candidate #1 was of course Donald Trump. Presumably, Mueller's full report explained the basis for the FBI's belief. *** Now we must wait to see how much of that explanation remains unredacted.
The words in the Carter Page warrant – if accurate – were cited by Andrew Crawford, a former prosecutor who supports the President. Trump was telling everyone yesterday to read Crawford's column in the New York Post, about how the Obama administration 'spied' on his campaign. Whether there was 'spying' or legitimate surveillance depends on why the FBI was doing what it was doing – the 'predicate' of the investigation as Barr said in his letter to Congress. Crawford and Trump say the FBI were just trying to find dirt and the 'predicate' was a dodgy dossier by a former British spy – Christopher Steele – paid for by the Democrats. Trump tweeted: 'Wow! FBI made 11 payments to Fake Dossier's discredited author, Trump hater Christopher Steele. The Witch Hunt has been a total fraud on your President and the American people! It was brought to you by Dirty Cops, Crooked Hillary and the DNC.'
Steele was indeed paid '11 times' by the FBI, not for the 'dossier' on Trump but for earlier work. His friends say that history with the FBI is evidence of his credibility – that he's an intelligence professional, not a political hack and a Trump hater. He sent the dossier to John McCain after the election precisely because he thought the FBI was ignoring it.
Maybe some people (call them "liberals" if you like), placed too much hope in the Mueller investigation into alleged collusion between Trump and Putin. But did they really think Mueller would get Trump on tape, asking a Russian to hack Hillary Clinton's email?
In any case, we had Trump in a news conference in July 2016, making a direct appeal: "Russia, if you're listening, I hope you're able to find the 30,000 emails that are missing," Trump said, referring to emails Mrs. Clinton had deleted from the private account she had used when she was secretary of state. "I think you will probably be rewarded mightily by our press." The evidence uncovered by Mueller is not vague. It led to indictments of numerous Russian citizens and of organisations, including the Internet Research Agency, a Russian troll factory based in St Petersburg.
As it turns out, that same day, the Russians — whether they had tuned in or not — made their first effort to break into the servers used by Clinton's personal office, according to a sweeping 29-page indictment unsealed Friday by the special counsel's office that charged 12 Russians with election hacking.
The indictment did not address the question of whether the Russians' actions were actually in response to Trump. It did not mention Trump's request for help from Russia — a remark that had unnerved American intelligence and law enforcement officials who were closely monitoring Russia's efforts to influence the election.
But the indictment did offer some clues about what happened, implying that the hacking had occurred later on the day Trump issued his invitation. He made the statement around 10:30 a.m. July 27 at his golf course in Doral, Florida. It was late afternoon in Russia.
"For example, on or about July 27, 2016, the conspirators attempted after-hours to spearphish for the first time email accounts at a domain hosted by a third-party provider and used by Clinton's personal office," according to the indictment, referring to spearphishing, a common tactic used to target email accounts.
The indictment said that on the same day, Russians began an effort to target 76 Clinton campaign email accounts.
At the 2016 news conference, Trump made a series of statements on Russia and raised questions about whether the Kremlin had actually been behind the earlier hacking of emails from the Democratic National Committee. Emails from the committee had been made public days before, on the eve of the Democratic National Convention, creating a significant distraction as the party formally nominated Clinton.
"Nobody even knows this, it's probably China, or it could be somebody sitting in his bed," Trump said about possible perpetrators of the hackings. "But it shows how weak we are, it shows how disrespected we are. Total — assuming it's Russia or China or one of the major countries and competitors, it's a total sign of disrespect for our country. Putin and the leaders throughout the world have no respect for our country anymore, and they certainly have no respect for our leader."
Trump also signalled then that he would be open to recognizing Russia's annexation of Crimea from Ukraine. The Obama administration and the European Union had considered the seizure illegal and imposed sanctions.
"We'll be looking at that," Trump said when asked if he would recognize Crimea as Russian land and lift sanctions that had been imposed after the annexation. "Yeah, we'll be looking."
What is beyond dispute is that Putin's agents bought adverts on social media praising Trump and disparaging his opponents; they stole identities, they even went to the United States and staged fake rallies, including one in which they employed somebody to portray Clinton in a prison uniform.
Understandably, many decent people wanted more. They wanted evidence of Trump not just getting support, but asking for it. Some had hopes of uncovering financial or sexual kompromat, as suggested in the infamous Steele dossier. But the indictment did not address the question of whether the Russians' actions were actually in response to Mr. Trump. It said nothing at all about Mr. Trump's request for help from Putin And it is pretty obvious that the Russian state had not just wanted Trump to be president, but had actively worked to aid that end. Since last July, nobody has needed to speculate any more.
Trump has been crowing 'No Collusion – No Obstruction!' and proclaiming the end of the "Collusion Delusion". Perhaps Trump really believes he has been proven innocent and can cruise towards the Republican nomination in 2020 and on to a second term. Trump's political base appears to be unbothered by his campaign's contacts with Putin, and by his flagrant and repeated lying about those contacts. But the left should have no hesitation in using all this shite to bring the lying, racist con-man down.
Here is a link to a searchable on-line version of the Mueller Report, released (with redactions) on Thursday, April 18, 2019:
Report On The Investigation Into Russian Interference In The 2016 Presidential Election
https://cdn.cnn.com/cnn/2019/images/04/18/mueller-report-searchable.pdf?fbclid=IwAR35fzpmESjvsAmnselLGl9csHeR-cLPkGfJXiG1uMOpOke4VJg6sep9Lqc