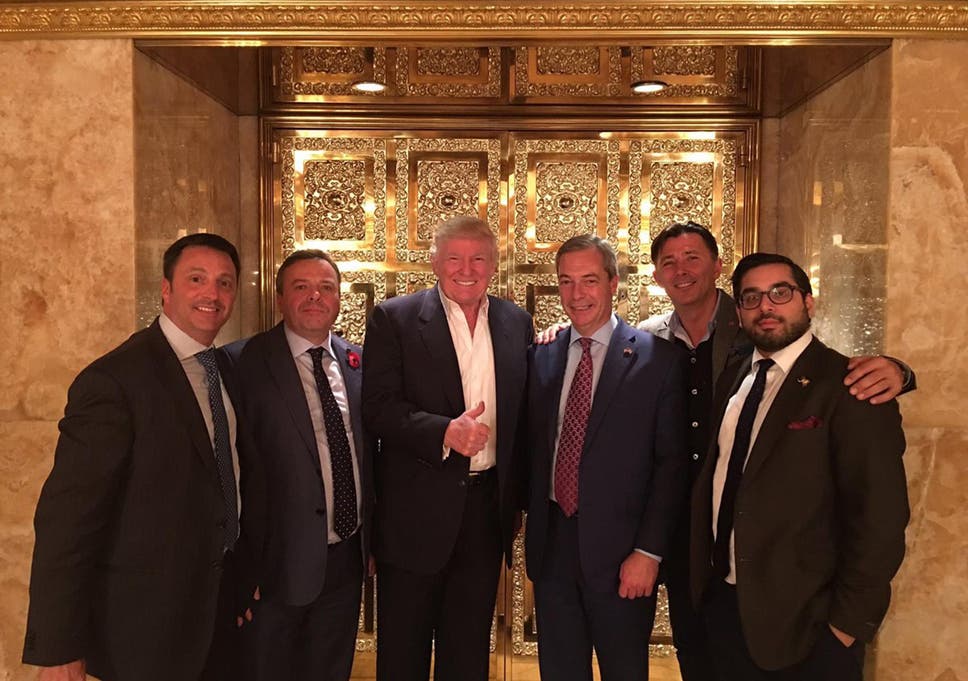 Banks standing to the right of Trump
Arron Banks is a millionaire who quite frequently threatens legal action against those who cross him, so I'll be careful what I write here. What can be stated as a matter of straight fact is that his highly complex business and financial arrangements were of sufficient concern to the Electoral Commission that they have now passed their investigation into the £8 million he gave to Leave.EU and other pro-Brexit groups, over to the National Crime Agency.
Oh, and it's probably safe to quote what the Guardian's Matthew d'Ancona has already written about him: "Banks is the John Gotti of populist campaigning, a dapper don who relishes his public profile." If you don't know who John Gotti was, check Wikipedia.
What can also be safely stated is that Mr Banks is right wing. In fact, he's very right wing, having switched his backing from the Tories to Ukip (which he's since broken with) in 2015 and then, during the referendum campaign, funded Leave.EU, the group fronted by Nigel Farage, that successfully turned the vote into a plebiscite on immigration, with their infamous "Breaking Point" poster and stories of a million Turks about to arrive in the UK.
What the Electoral Commission has referred to the National Crime Agency is the question of whether Better for the Country Limited – Bank's campaign firm – "was the true source of donations made to referendum campaigners in its name, or if it was acting as an agent".
As well as "lending" £6m to Leave.EU (a "loan" yet to be repaid) Better for the Country donated around £2.4m to other anti-EU groups like Grassroots Out, which was supported by some Tory MPs, including David Davis, and a few Labour Brexiteers like the loathsome Kate Hoey.
Donations were also made, between March and June 2016, to WAG TV Limited (who made an anti-EU film), Ukip (led at the time by Farage), Veterans for Britain and Trade Unionists Against the EU (TUAEU).
Hang on a minute! Trade Unionists Against the EU! Isn't that a supposedly "left wing" organisation, regularly promoted in the pages of the Morning Star? And it received funding from Arron Banks? Yes, dear reader, I have to tell you that it did: £54,000 according to the Electoral Commission.
But surely now the Morning Star knows about TUAEU's links with Banks, it will have no more to do with them. After all, as long ago as June 2015 the Morning Star carried an editorial ("Left Reasons to ditch the EU") denouncing right wing anti-EU campaigners as "neoliberal and nationalist extremists" and called on trade unions, the Labour Party and the left to "develop an independent position of their own, one which represents the real interests of workers and the mass of the people across Scotland, England and Wales." Surely the whole point of the Left Leave ("Lexit") campaign so heavily promoted by the Morning Star is to ensure that the anti-EU left is not tainted by the likes of Banks?
Well, it would seem not: in fact, TUAEU's links with Leave.EU and Banks have been public knowledge at least since the publication (in March 2017) of Banks's book Bad Boys of Brexit in which he describes how he funded an anti-TTIP (Transatlantic Trade and Investment Partnership) leaflet produced by TUAEU and how in January 2016 the Labour anti-EU campaigner John Mills put him in touch with a key TUAEU contact: "I just spent an hour on the phone with Brian Denny from the RMT signing off anti-TTIP leaflets for the trade unionists. This is the kind of thing we should be doing much more of."
Brian Denny, as well as being an employee of the RMT, one of the few unions to back Brexit, was at that time probably still a member of the Communist Party of Britain (CPB) which backs the Morning Star (CPB people have said he's since left the party) and was certainly still a regular contributor to the paper. And in any case, Denny was also a leading light in the Campaign Against Euro Federalism (CAEF) which in October 2015 announced its affiliation to Leave.EU:
"As a well-established Eurosceptic Labour movement organisation operating for nearly 30 years, CAEF is pleased to join an organisation that seeks to represent people from all walks of life and defend national democracy, which is clearly under threat from a corporate-dominated European Union that is accruing evermore powers at the expensive of member states. No country can truly decide its own future democratically without the sovereign power to make its own laws and run its own economy in the interests of its citizens free from outside interference" (signed) Brian Denny
Denny and fellow CAEF people like the ultra-nationalist John Boyd continued to contribute articles to the Morning Star long after their affiliation to Leave.EU was announced.
And even though Denny and Boyd no longer have major articles in the Morning Star (Denny recently contributed an enthusiastic review of a pro-Brexit play by Julie Burchill), other TUAEU people still regularly contribute rabidly nationalist and pig-ignorant anti-EU tirades. As recently as last weekend, the paper published a little-England rant from TUAEU secretary Doug Nicholls, including the following pearls of wisdom:
Bearing in mind that the EU needs our market more than we need its, we would negotiate no-strings trading terms that would advantage the rebuilding of our economy.

We certainly wouldn't let the EU cynically mess with the interests of Dublin and Belfast in developing either their trade with each other or with us.

The EU is actually negotiating on the back foot and in desperation. There are many signs of this. The EU dominant powerhouse Germany is in trouble, so is its currency, the euro.
It would be interesting to read Mr Nicholls' explanation for having accepted Arron Banks's money. In fact it would be quite interesting to read anything in the Morning Star about Banks but at the time of writing, the paper has had precisely nothing to say about him.