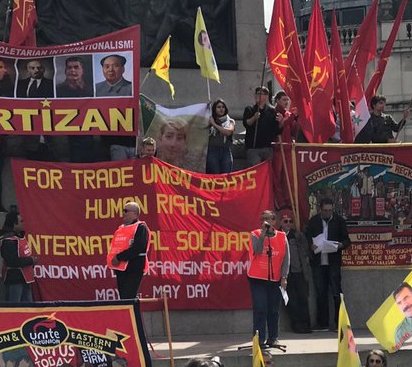 Above: calling for "human rights" beneath portraits of Stalin and Mao
A comrade has sent in the following report:
The "official" London May Day parade was absolutely atrocious. I've only been to a couple before but it definitely seemed significantly worse this time. Very old, and the Stalinism was less diluted by other forces – maybe I missed it, but I saw relatively few trade union banners/flags, and I didn't see any explicit anti-authoritarian left (i.e. Trot, anarchist, etc etc) presence aside from some around us and a thin smattering of SWP placards. The rest of the Precarious Workers Bloc people sacked off the main march and I can't blame them. The only actual, immediate demands I saw on placards or banners were pro-Assad ones, "free Assange" and a handful of civil liberties campaigners who were doing a privacy/spycops thing and who I think left soon after we set off (again, can't blame them).
My main feeling throughout the whole thing was absolute horror at the knowledge that passers-by would quite reasonably have assumed we were with these scumbags. This came to a head when a pedestrian came up to me while I was holding the Labour Campaign for Free Movement banner and shouted "Jew-hating Nazi scum" in my face. He was gone before I could muster a reply but honestly I could hardly blame him – it was not an unreasonable level of hostility given the evidence before him of who we were associating with.
Shortly after that – about 2/3 of the way through the main march – we, the IRMT and the couple of friends with our little crowd just bailed out and walked to Trafalgar Square separately to meet the Precarious Workers Bloc comrades. We weren't achieving anything by our presence other than to tarnish the reputations of the Shahrokh Zamani campaign and the LCFM by being associated with North Korean flags and the rest.
I think we need to consider further involvement. It's not enough for people to go on it even if we bring placards or banners saying better things then the bastards. We might meet a couple of people in the square beforehand but we also end up visibly associated with, and not explicitly disowning, the absolute worst, most offensive and alienating dregs of the "left". I worry that our presence may do more damage than good.
What's required is not just NON-Stalinist politics, but specifically ANTI-Stalinist politics shoved into the march, expressed with a directness and terms that are easily comprehensible not just to other leftists but to passers-by horrified by a parade of Stalin pictures. So things saying solidarity with ongoing Chinese workers' struggles, "Replace Maduro with Venezuelan workers' democracy", "remember Solidarnosc", "remember Tiananmen", "Stalin murdered the revolution – never again", "neither Washington nor Moscow", "socialism means freedom not gulags" etc etc.
We might also consider, now, throwing motions at upcoming trade union and Labour Party meetings expressing shame and disappointment that these images were what represented the workers' movement, and calling for some way forward – not sure exactly what though. Some democratic discussion/meeting about the running of the thing? Re-orienting the march to actual demands or particular struggles rather than a generic wander through London?
Comrade Bob had a similar experience, here