Remember when that pipsqueak Jeremy Hunt had the audacity to take on Stephen Hawking over the NHS? It was August 2017
The controversy began when Hawking gave a speech at the Royal Society of Medicine in which he said: "The crisis in the NHS has been caused by political decisions."
He also wrote in the Guardian: "We see the balance of power in the UK is with private healthcare companies, and the direction of change is towards a US-style insurance system."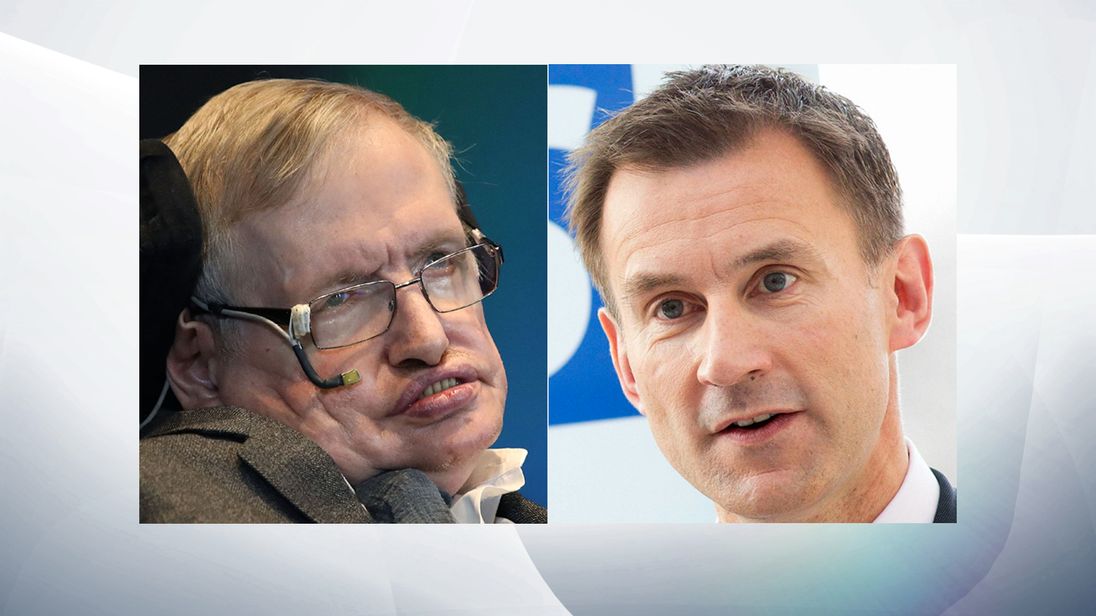 Stephen Hawking also accused Health Secretary Hunt of "abusing" science.
The  lifelong Labour supporter said Mr Hunt was "cherry-picking" scientific research into the so-called "weekend effect
Hunt had cited studies showing that death rates are highest during weekends and he said this was the main reason behind his drive for a seven-day health service.
That, in turn, saw Hunt move to impose new contracts on junior doctor contracts, leading to long-running strike action.
In a Guardian article Hawking wrote: "Hunt had cherry-picked research to justify his argument. For a scientist, cherry-picking evidence is unacceptable.
"When public figures abuse scientific argument, citing some studies but suppressing others to justify policies they want to implement for other reasons, it debases scientific culture.
"One consequence of this sort of behaviour is that it leads ordinary people to not trust science at a time when scientific research and progress are more important than ever."
The lifelong Labour supporter claimed "We see the balance of power in the UK is with private healthcare companies, and the direction of change is towards a US-style insurance system," he'd written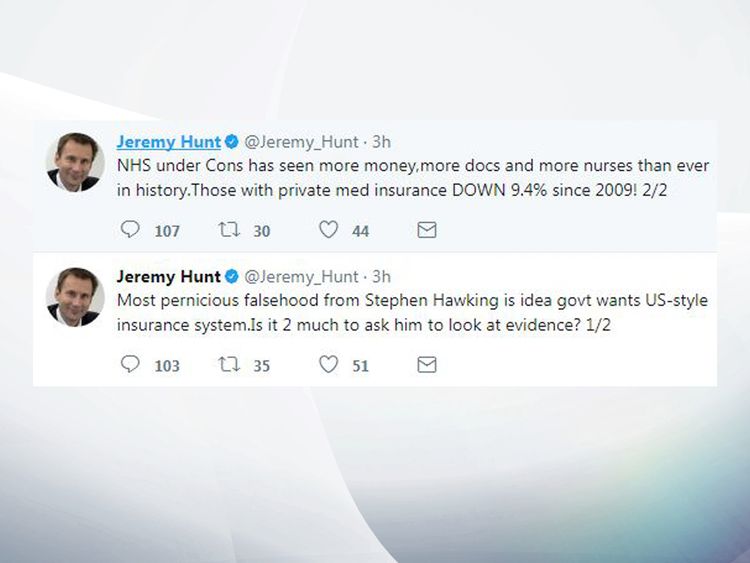 Hunt, evidently stung,  responded with an article in the Sunday Telegraph saying Hawking was a personal hero of his, but accusing him of making "a series of claims about the NHS without any evidence at all."
He also hit out at Professor Hawking on Twitter.
He wrote: "Most pernicious falsehood from Stephen Hawking is idea govt wants US-style insurance system. Is it 2 much to ask him to look at evidence?
"NHS under Cons has seen more money, more docs and more nurses than ever in history. Those with private med insurance DOWN 9.4% since 2009!"
"Stephen Hawking is brilliant physicist but wrong on lack of evidence for weekend effect."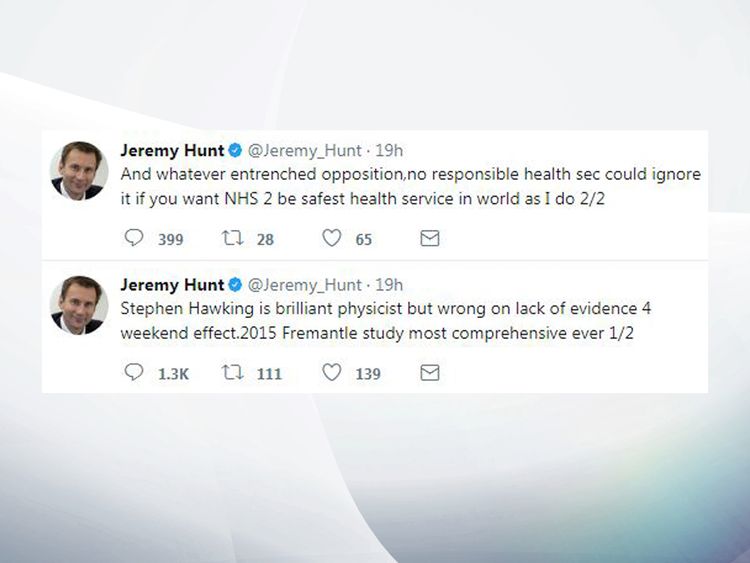 After a week of angry exchanges, Hawking wrote in the Guardian: "Hunt's statement that funding and the number of doctors and nurses are at an all-time high is a distraction. Record funding is not the same thing as adequate funding. There is overwhelming evidence that NHS funding and the numbers of doctors and nurses are inadequate, and it is getting worse."
At this point, Hunt decided to shut up: one of the few sensible decisions the pipsqueak has ever made.